Creative Sound Blaster E5 USB DAC
For Gaming/Watching Movies
9.5/10
Build Material & Quality
8.5/10
Overall Sonic Performance
8.5/10
Connectivity Options
9.5/10
Personalized Listening Experience
9.5/10
Pros
Can be connected to a laptop, PC, smartphone, gaming console, or TV
SBX Pro Suite software allows for a customized listening experience
Emphasizes low end frequencies which can be ideal for gaming/movies/bass-heavy audio
Rubber base pad prevents slippage and minimizes the risk of a major drop
Offers multiple connectivity options that many DAC/amps don't
Cons
No volume knob LED power indicator
Volume Knob Isn't The Most User-Friendly
Not ideal for dedicated music listening (for genres that aren't bass-centric)
Does the E5 live up to its reputation? Can you trust the star ratings and customer reviews you may have read on other sites?
What are the ideal uses for this specific DAC/amp? Does it have any major downsides that you should know about?
Read through our Creative Sound Blaster E5 Review to see whether or not this portable headphone amplifier lives up to its reputation as one of the most highly-rated devices of it's kind! We'll give you all the details covering everything you'll want to know before you can make an educated decision. 
Will this device be the perfect choice for you? Take a look at the features and technical specs below before you move on to our in-depth analysis.
Creative Sound Blaster E5 Review
Features & Technical Specs:
24-bit/192 kHz USB DAC + headphone amplifier

Built-in NFC pairing technology

SBX Pro Studio suite allows you to customize the sound of your audio

Compatible with laptops, PCs, smartphones, or other portable digital audio players

Features a built-in Cirrus Logic CS4398 DAC

Built-in dual-gain switch: Low (32 – 120 Ohms), High (120 – 600 Ohms)

7.1 virtual surround sound can be used to create a more realistic gaming experience

Features dual headphone outputs for sharing your music

MFi certified for Apple devices

Plastic with matte finish, metal, and rubber base pad

Bluetooth 4.1 with AAC, aptX low latency, and SBC codec support

Connectivity

: USB, micro USB, line/optical in, line/optical out

Output Impedance

: 2.2 Ohms

Microphone

: Built-in dual mics with CrystalVoice technology

Battery

: 3200 mAh

Battery Life

: Up to 8 hours 

Also includes

: Desk stand, 2 elastic bands, mini TOSLINK cable, micro USB cable

Dimensions

: 9.1 x 6.1 x 3 inches

Weight

: 1.05 pounds
If you're ready to dive in, let's start by taking a closer look at the build materials and quality used to construct this amp!
---
Build Materials & Quality
The E5 is constructed of durable plastic with a matte finish and a single metal strip running down the middle. On the bottom, it has a rubber base pad which helps prevent slippage.
If you plan on using this amp with your laptop or PC, the rubber base pad is a nice bonus feature that's not always included with many other DAC/amps.
You'll also receive two elastic bands that can be used to attach your phone or other portable players to the amp. That way, you can hold both in your hand, or keep them securely attached while they're in your pocket or sitting nearby. 
Using The Included Desk Stand
If you don't want to utilize the rubber base pad, you can also use the included desk stand for holding your amp. The included desk stand can also be attached to a compatible microphone stand using the threaded hole on one side.
When the amp is being held by the desk stand, it will sit at an angle and can make it slightly easier to adjust the volume and other functions.
---
Bluetooth Connectivity & Performance
As of now, most portable headphone amps don't include a wireless option. Although Bluetooth isn't absolutely perfect yet, the built-in Bluetooth 4.0 is pretty decent, all things considered.
You can stream hi-res low bit-rate files via wireless connection using the built-in AAC, SBC, onboard codec support. Advanced audio coding (AAC) is a few steps above the standard Subband Coding (SBC) which means you'll experience a higher level of wireless playback (since most wireless devices now also support AAC). 
Bluetooth vs. Wired Playback
You're probably aware that Bluetooth audio fidelity isn't the best for listening to hi-res files, and could use some improvement. As is the case with many wireless headphones, using one of the available wired connections will (almost always) produce better-sounding playback.
3 Main Button Controls + Infinite Volume Knob
On the side of the DAC, there are 3 main control features. The power on/off button also doubles as a Bluetooth pairing button (which will light up when you power the amp on).
The second button (from the left) will activate/deactivate your customized SBX settings.
Just to the right of the SBX button, is a high/low gain switch. On the low setting, it will sit between 32 – 120 Ohms and when switched to high it can reach an impedance of 120 – 600 Ohms.
On the front end of the DAC, there is a click and spin volume knob. The volume knob is never-ending, meaning you can keep spinning it around and around without ever hitting any endpoint. 
Volume Knob Tactile Response – What Do You Prefer?
As you turn the volume up, you'll notice a complete lack of tactile response. There aren't any notches or clicks to let you know how far you've turned it.
While you might not mind the lack of tactile response, others of you likely enjoy the physical feeling or at least some sort of system to remind you where the knob sits.
Has This Ever Happened To You?
You've probably had the uncomfortable experience where you forgot to check the volume on a portable device, plugged your headphones in, and got a shocking blast of loud audio right in your ears.
It's one of those things that none of us like, but until it happens again, you usually overlook the possibility.
Even though it usually doesn't happen on a regular basis, it's one area that could use slight improvement – just in case. There's also something satisfying about feeling the knob turn and click as you go up and down.
This aspect really boils down to personal preference and is a pretty minor downside considering all of the additional features and overall performance.
---
Battery Life – With/Without Bluetooth
You can expect to get up to 8 full hours of playback on a single charge. This goes for both listening via Bluetooth or using one of the many available wired connections.
There is an LED indicator light that will turn on when you power up the device or pair it with your headphones via Bluetooth.
Also (to the right of the side with button controls) is a three-bar battery life indicator.
Where Are The LED Indicator Lights?
There have been a few minor complaints about the lack of an LED light around the circumference of the volume knob. For some, it has more to do with appearance, and for others, it's an easier way to indicate whether or not the DAC amp is on or off. 
If you decide to use the included desk stand, it will be less problematic since you can position the portable amp with the button controls facing towards you.
On the other hand, if you have the volume knob facing forward, (at quick glance) it won't be as easy to see whether or not the device is on or off.
---
SBX Pro Suite – Customize Your Audio
SBX Pro suite is a program included with the E5 that allows you to further customize your listening experience.
Once you install it on your laptop or PC, you can manually select multiple options within the program.
Here are the five main feature selections you can play around with until you find the perfect setting:
Surround

Crystallizer

CrystalVoice

Mixer

Equalizer
Basic Functions For Each SBX Setting
The Surround settings can be used to create a three-dimensional sound profile that's great for enhancing gaming sound effects or to hear more detail while watching a movie.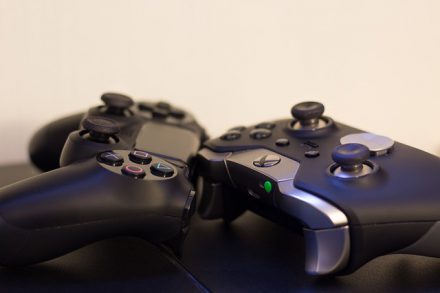 The Crystallizer feature will brighten up your audio and give it a livelier sound.
The CrystalVoice settings can be used to add voice-altering sound effects which can be fun for chatting while gaming (or however else you choose to use it).
Within the Mixer settings, you can adjust output levels for optical in/out, line in/out, etc.
The Equalizer allows you to manually adjust each level of frequency if you want to create a completely personalized EQ setting. You can also pick from one of the built-in presets by genre.
Ideal (And Not So Ideal) Genre Selections
Using the SBX button (next to the power/Bluetooth button) by itself acts as a bass boost function. If you decide to turn it on, it will enhance the low-end frequencies more than the mid to upper range.
With this button activated, this amp tends to perform better for music that features a stronger bass response. If you listen to a lot of house music, EDM, hip-hop, electronic, pop, or other bass-heavy genres – you should be more than satisfied with the playback response.
If you're someone who mostly listens to rock, alternative, metal, or classical music – it might be slightly too bass-heavy for your taste.
Alternatively, you can manually configure the settings to your preference within SBX Pro suite and avoid the SBX button altogether.
Surround Setting For Listening To Music
Another important feature worth noting is that using the Surround setting preset can cause a slight echo and change the way your audio sounds. You might enjoy the alteration, although it will take your audio further away from a well-balanced, true-to-life representation.
Overall, this device excels at extending those heavy low ends for much stronger bass response. It doesn't neglect the upper ranges, but the main focus does lean towards propping up the low end. 
---
Output Impedance – Is Lower Better?
The E5's 2.2 Ohm impedance allows for use with a wide range of headphones – from higher-end cans (like the Audio Technica R70x) to more sensitive low impedance headphones.
Due to it's low output impedance, most pairs of headphones will pair nicely with this amp. If you own a pair of headphones that are harder to drive, you'll want to pay extra attention to this next section.
Is There Any Noticeable Distortion?
Depending on how loud you like to listen to your music – the level of distortion will vary. Even if your cans are fairly easy to drive, at louder volumes there can be slight issues with distortion.
If you're someone who likes to turn your music all the way up with the gain switch on high – you will most likely experience some noticeable distortion.
Turning the gain switch on can be helpful for certain 'phones, but for others, it's better to leave it switched off in order to avoid too much distortion.
The ideal pair of headphones to use with this amp will depend on the following factors:
Headphone impedance

The audio file type you prefer (MP3, WAV, FLAC, etc.)

Your primary genre/genres of choice (bass-heavy vs. non-bass-heavy)

Whether or not you plan on using this for gaming or watching movies
Keep reading below to see how much your primary genre of choice (and other plans for use) will affect your overall listening experience.
---
7.1 Virtual Surround Sound – For Gaming & Watching Movies
One of the most important stand-out features to highlight is the 7.1 Virtual Surround Sound support. It helps to deliver ultra-realistic, 3D sound effects while you're gaming or watching a movie.
On top of that, once you find your preferred SBX Pro settings, you'll be able to more fully immerse yourself within the digital world of the game you're playing.
Detailed Sound Effect Immersion
It will enhance every footstep, gunshot, voice, and other sound effects that are important for staying sharp while gaming. Another positive aspect of a strong bass enhancement is that the low-end emphasis will really bring those explosions, low rumbles, and engine sounds to life during your movie or game.
Within the SBX Pro suite, there is also a setting called Scout Mode. Similar to the Surround settings, it's useful for enhancing your ability to hear your "enemy's" movements whether you're playing Call of Duty, Fortnite, Counterstrike, and others.
Practical Uses For The Included TOSLINK Optical Cable
The included TOSLINK optical cable can be used to connect to your TV, PC, laptop, or gaming console. This allows you to connect the E5 to your console/TV while pairing your gaming headset or wireless headphones to the amp.
It's a simple way to rid yourself of unnecessary cables for a less complicated gaming/movie amplification setup.
---
Overall Performance & Final Rating (Out of 10)
Overall, it seems as if this particular DAC/amp was specifically designed for taking your gaming experience to the next level (rather than specific use as a dedicated portable amp for music).
It offers multiple connectivity options, ranging from Bluetooth to optical in/out, which is an added bonus that other similar devices don't always offer. The included accessories are another bonus that will come in handy, depending on the type of listening you plan on using this for.
What Type Of Listener Is This DAC/Amp Ideal For?
It would be the perfect option if you:
A. Watch a lot of movies while wearing headphones and/or need that extra edge for gaming
B. Are looking for a great mid-level portable amp to enhance your music
The SBX Pro suite has a great number of options for bringing the tiniest details, in that respect, to life – which would make it especially ideal for gamers.
You'll also love this portable amp if you enjoy watching movies and aren't fully satisfied with your current personal audio setup. 
If you consider yourself an audiophile and seek authentic, true-to-life playback, you may not be completely satisfied with this amp.
On the flip side, if you primarily listen to bass-heavy tunes, this would make for a great personal audio companion. Although this DAC/amp doesn't necessarily check every single box – it does deserve a fair shake.
With that in mind, for a sub-$200 DAC/amp, the E5 does stand out as one of the crowd favorites. It's not by mistake that it's consistently very highly reviewed and rated on Amazon. Did our Creative Sound Blaster E5 Review give you enough information to nudge you one way or the other?
Take a look at the review table below to see our final rating out of 10, as well as the most important pros and cons to consider.
If this amp meets your criteria and fits your personal needs, click here to see other customer reviews, pricing info, and star ratings on Amazon.
Are you still curious about any one of the features or performance aspects? If so, go ahead and ask your question below! We always do our best to respond as quickly as we can.
If you don't think this amp is suitable for your specific needs, you can browse some of the Best Portable Headphone Amplifiers here to see a few other highly-rated options.
Thanks for stopping by and reading through our review, we hope to see you here again!
Sonic Elevation: Ride The Waves.