Studio
Konig and Meyer Studio Microphone Stand
So you have everything you need to start recording, from your microphone to your studio monitors. Everything except for a microphone stand. Unless you wanna hold the mic and learn all the nuances of how and where to hold the mic, you'll wanna invest in a quality stand for your mic. Doing so will enhance your studio recording experience and allow you to express your ideas without having to worry about holding your mic.
Konig & Meyer is a family-operated company that was founded in 1949. They have a time-tested name that manufactures music stands, stands for instruments, monitor stands, and other equipment necessary for getting your studio ready to rock. We'll be focusing on one of their Konig and Meyer 210/9 studio microphone stand.
---
Konig and Meyer Studio Microphone Stand
The K&G 210/9 is a "tripod boom" stand. This gives you more reach and versatility when you're recording music. The boom operates on a 2-piece telescope mechanism. You have your tripod base, the connecting rod, and the telescopic boom attachment where you will attach your mic.
It comes ready to use pretty much right out of the box. All you have to do is screw the pieces in place and adjust it to your personal liking.
Basic Specifications:
Constructed with Steel

2-piece folding design (includes the tripod base and connecting rod)

Clutch height adjustment

T-bar adjustable telescopic boom arm

Removable XLR cable clamps

Height range adjustable from 2 ft. 11 in. – 5 ft. 3 in.

Boom range adjustable from 1 ft. 5 in. – 2 ft. 5 in.

3/8″ threaded connection

Weighs approx. 7lbs.
This particular stand has some weight to it and you can feel the quality of the steel in your hands. One added bonus is that if there's ever a zombie apocalypse, you can use this to help fend them off.
It WILL hold up even after years of moderate use and you might not even need another stand for a long time if you take care of it. 
---
Compact Folding Design
This stand breaks down into 2 main pieces when you take it apart. If you lower the pieces to their smallest settings and then take it apart, unscrew the telescopic boom arm from the tripod base/connecting rod you can then fold the legs on the tripod base. After doing this, you can slide the two pieces back into their box and take them wherever you need to go.
This is especially convenient for taking your gear on the go, whether it's to a friend's house, recording studio, or for a live performance. You will see the separate pieces pictured below.
---
Protect Your Microphone
Let's say you spent $100+ on a new microphone. Imagine that you're jamming out while recording and someone accidentally bump into the stand, or mic on the stand, and the whole thing tips over… you'll feel your stomach drop with it to the floor.
Whatever you invested in that microphone may have just gone down the drain, unless you have a good warranty for accidental drops. (Not to mention the setback in time for you to keep doing your thing in the studio.)
Here's a short video explaining why it's almost always better to invest in a quality stand:
A Smartphone Analogy
It's kind of like buying a case for your smartphone. You just bought the new iPhone, it's raining outside and you accidentally drop it while checking your Twitter feed. If you paid a little extra for the waterproof case, you'll be thanking yourself after picking it up to see that it's still intact.
Making sure you get the best bang for your buck is important, but even more, so is making sure you get the gear that's gonna hold up for years and be the gift that keeps on giving.
Konig and Meyer gives us a 5-year guaranteed warranty to back up their claims about quality. To be honest, this particular stand feels like it could be run over by a small vehicle and still stand up, no pun intended. I wouldn't recommend testing that theory out because it is just a theory after all.
---
What's Included?
(long-legged 201A/2 mic stand)
(telescopic boom arm)
(microphone XLR cable clips)
(XLR cable clips in action)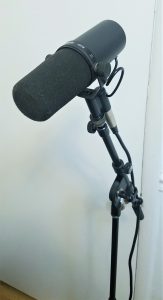 (the entire setup with the Shure SM7B)
---
For Musicians
If you're the type of musician who can't memorize lyrics on the first take or two and you hold a notebook or your phone to help follow along with your lyrics while you're recording, a sturdy stand will save you a lot of trouble (and arm strength).
---
Home Studio Recording
For use at your home/bedroom studio, this particular stand is compatible with something called a reflection filter. The reflection filter acts as a form of "acoustic treatment" when you can't afford thousands of dollars on soundproofing.
Reflection Filter
There are people who build a studio from the ground up and have specific insulation and stud placement to minimize sound leakage to the outside, but also to keep the sound you want to hear isolated to that specific room.
Trust me when I say, I'm pretty jealous of those who can afford to build their operation like that from the ground up, but since most of us can't afford to give a room this kind of treatment, we look for other ways to maximize the sound quality of our recordings. A reflection filter is one way to achieve this without breaking the bank. You can click here to take a look at the best-selling models on Amazon.
---
One Last Wrap-Up Video
To go over the main features of this mic stand one more time, here's a video from K&M showing them in action.
That was a lot of numbers at the end, it even confused me a little bit, don't worry. The one that I'll be linking you to for this review is the 210/9 model and it has all the features we went over in detail above.
Hopefully, this Konig and Meyer Studio microphone stand review showed you why it's appropriate for any of us who need a solid, quality microphone stand to use for our recording purposes. Once you add this to your collection, it'll be a while until you need a replacement (if ever). Now that you've read this review, I hope most (if not all) of your questions were answered!
To see more customer reviews, pricing info, etc. on Amazon – click here. If you have any questions feel free to leave them in the comment section below! Thanks for stopping by, we look forward to hearing from you!
Sonic Elevation: Ride The Waves.