Beats Studio Wireless Over-Ear Headphone
Wireless Performance
9.0/10
Ear Cup Button Controls
9.0/10
Pros
Great Wireless Connectivity & Range
Above Average Wireless Audio Playback
Long-Lasting Comfortable Ear Cushions
Lively V-Shaped Sound Signature
Compact Folding Design Makes Them A Great Travel Pair
Cons
Headband Could Use Slightly More Padding
Battery Life Isn't Very Impressive
Minor Low End Distortion At Extremely High Volumes
Despite the number of negative reviews you may have seen on YouTube or other headphone review sites, we think the Studio Wireless deserves a fair shake! Maybe you've read some good things, maybe not. There are quite a few pretty critical opinions about these headphones. 
In a world where wireless technology is taking over, are these 'phones able to compete? Before you decide, let's take a closer look at one of the most controversial headphones in the world! Read through our Beats Studio Wireless Over-Ear Headphone Review to see if they've been honestly reviewed!
Beats Studio Wireless Review – Yes or No?
Basic Features & Technical Specs:
Circumaural (over-ear) headphone design

Built-in wireless Bluetooth technology

Listen via wired or wireless connection

Adjustable headband and compact folding design (plus a hard shell zip carrying case)

Listen/pair up to 30 ft. away 

Features Dual-mode Adaptive Noise-Cancelling Technology

Listen for up to 12 hours of listening time on a single charge

Built-in LED battery life indicator

Ear cup-mounted built-in microphone (for calls/Skype)

Includes

: USB 2.0 cable, 3.5 mm headphone cable, and a 3.5 mm cable with RemoteTalk 

Frequency Response

: 20-20,000 Hz

Impedance

: 45 Ohms

Sensitivity

: 115 dB

Dimensions

: 9.6 x 7.3 x 4.5 inches


Weight

: 9.1 oz.
Before you move on, take a quick look at the links below that you can use to navigate our review. Each section will provide an in-depth analysis of each individual performance aspect.
Here are the 6 most important performance features you'll want to consider before making your decision:
Now that you've taken a quick look at the technical specs, let's start by examining two of the most important features – wireless performance and battery life!
---
Wireless Performance & Battery Life
When you're using the wireless connection to listen with these 'phones, there are a few key points to keep in mind. For example – how long the battery will last, wireless connectivity range, and wire-free sound quality.
Wireless Range & Connectivity
When paired via Bluetooth, the wireless connection remains fairly stable. You can wander over 30 feet away from your paired device without experiencing too much interruption. At any distance past that – the connection will start to falter and break up.
If you're using your laptop or smartphone, maintaining a strong connection will depend on a few things. The streaming service you use and how much you like to jump from YouTube to Spotify or vice versa.
When streaming music on Tidal, the connection did end once or twice during the same album. Using Amazon Music didn't cause any connectivity issues at all. For the most part, wireless performance is adequate. 
Battery Life & Wireless Listening Time
Before we dive into the wireless battery life, it's important to know that these 'phones will drain battery life – even when you're using the wired connection. When you have the 3.5 mm cable plugged in, the battery does last quite a bit longer. That being said, if you're using the wired connection and the red LED light comes on – it's time to charge them up.
When listening using the wired connection, the battery will last more than 10 hours on a single charge. Although they're advertised as lasting up to 12 hours, you'll usually get closer to 10 (depending on volume level, etc.). How long does it take to fully charge them?
Charging Time
These cans have a built-in USB charging port on the right ear cup. You can charge them using the included USB 2.0 cable by plugging them into your laptop (as seen in the picture below), PC, or the standard electrical wall plug.
To get a complete charge when they're completely drained, it usually takes around 2 full hours. Unlike the Beats Solo3 Wireless, there is no QuickCharge feature. Another great feature that's built-in is the ability to quickly check how much battery life is left.
Battery Status Function – Press of a Button
If you're not sure how much battery is left, you can push the power button (on the right ear cup) once and the LED lights will light up. The battery status function works when you're listening to both wireless and wired.
It's a pretty convenient feature since it's an easy way to know when they need to be charged. (It's never fun when you're listening to one of your favorite songs and the music stops right in the middle because the battery's dead.)
As you can see in the picture below, this is how it will look when they are almost fully charged. The LED lights on the right side indicate battery life. The single light on the left lets you know when you're paired via Bluetooth.
On the right, 4 out of the 5 LED lights are lit, which means you have about 8 or 9 hours of listening time left. When they're plugged in and charging, the 5th light would slowly blink until they're fully charged. 
Ear Cup Button Controls
On the right ear cup, you have a battery power status light bar as well as the power button and Bluetooth pairing function. Using the same button you use to check battery life, press and hold the power button (for about one second) to power them on.
To pair with your Bluetooth device, hold the same button down for about 3-4 seconds. Once the light starts blinking, they're in pairing mode.
Volume Adjustment & Skipping Tracks
They also have a volume adjustment button on the left ear cup. You can turn the volume up/down using the easy to find volume controls above and below the 'b' logo. To play/pause your music, press down on the 'b' logo.
Issues with volume using Bluetooth headphones usually tend to be one of the most common complaints. Using the left ear cup volume control, the Studio Wireless will actually reach above-average volume levels.
If you find that the volume doesn't seem loud enough, here's a quick tip for adjusting the volume. When listening on your smartphone or laptop, turn the volume on your phone/laptop all the way up – then adjust as needed using the ear cup control. Overall, even using the wireless connection provides more than enough volume for most listeners.
To skip tracks, quickly press the 'b' button twice. To skip back a track, press the same button quickly 3 times.
Aside from volume, there is a pretty noticeable difference in audio quality between wired and wireless connections. 
---
Comfort – Do They Have Long-Lasting Comfort?
As you can see in the picture below, the ear cushions are oval-shaped. They are deep enough that they will comfortably fit most size ears without causing any discomfort. They are covered in a leather material that's doesn't cause your ears to overheat or sweat.
The ear cushions have more than enough padding while also managing to stay sleek and compact. Although they're not the most comfortable for wearing with glasses, they're still much more comfortable than average.
The adjustable headband has some sort of air padding. When you push down on the air cushion, you can feel the cushion provided by the air inside. The headband padding is very minimal but stays comfortable after a few hours of use.
The main drawback to the sleek headband design is the amount of weight distribution you can expect. Most of the weight is pretty evenly distributed across the top of your head. That being said, there is a slight tendency for the middle portion to pull down slightly more than you might like.
Keep in mind that the amount of pressure caused by the weight of the headphones will vary depending on your specific head shape. One benefit of the minimal headband design is the ability to fold them into a pretty compact shape. If there was a ton of extra padding, it would be harder to fold them into such a neat package.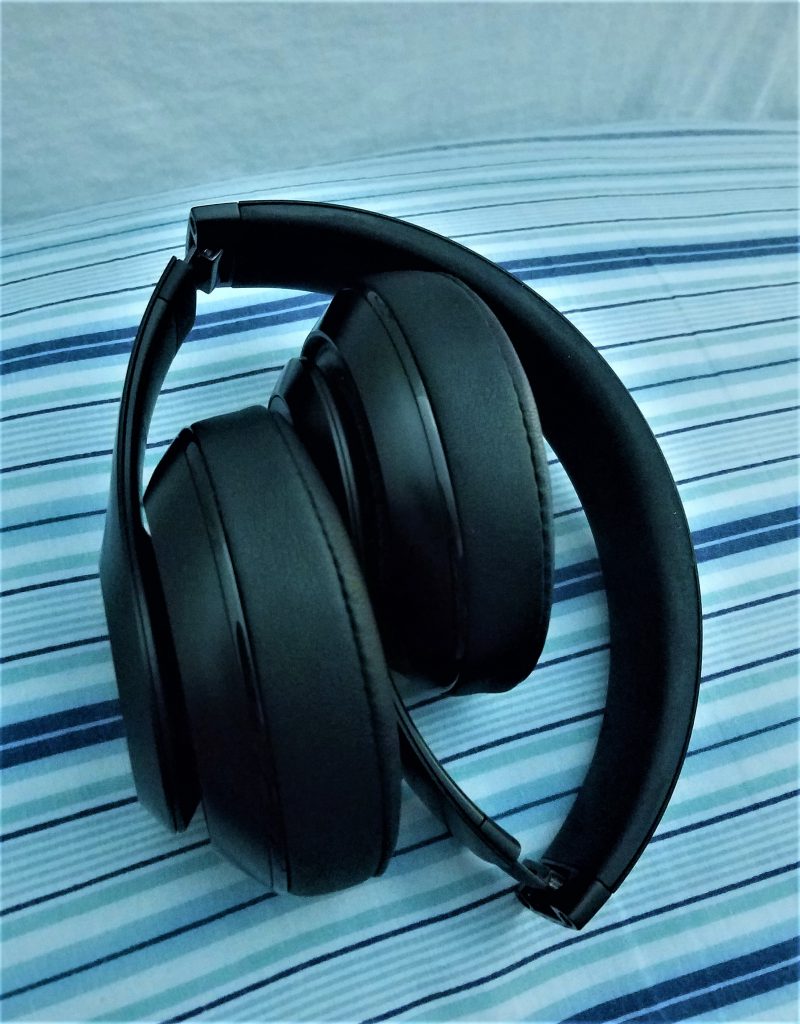 Overall, the leather-covered ear cushions stay comfortable after a few hours of listening. If you keep them on for closer to 8 hours, you might experience some discomfort. (In general, it's not recommended that you listen that long, regardless of which 'phones you're using.)
The headband provides adequate padding for most uses and does a decent job at evenly-distributing most of the wearing weight. If you were to compare their overall comfort side by side with the V-Moda Crossfade LP2, they would score slightly lower. While the ear cups on the Studio Wireless are much comfier, the headband on the LP2 is noticeably more comfortable.  
In terms of comfort, these cans really don't give us too much to complain about. If the ear cups don't cause overheating, can they be used for working out?
---
Are They Ideal For Working Out?
Although you might occasionally see people at the gym working out with Beats, it's probably not ideal. Their build quality does allow them to stay pretty firmly in place but the necessary ventilation during an intense workout just isn't there.
They weren't exactly designed to be used for working out, but doing so technically won't cause any major issues. The main factor to keep in mind if you decide to use them for working out is the leather-covered ear cushions. Over time, your sweat will start to wear away the black leather finish until they start to look like an old hat with sweat stains. 
We recommend using a different pair of headphones to wear at the gym. These are far better suited for at-home or on-the-go listening where you won't be testing their durability. They also do not carry an official waterproof rating, which adds to their limited performance as a dedicated workout pair.
While these cans aren't exactly overly fragile, treating them with the proper care and using the included hard-shell carrying case will help preserve their overall quality. (It's also a good idea to use the included cleaning cloth to wipe them down every now and again.) They aren't exactly a fingerprint magnet, but over time the oils from your skin will start to appear. 
---
Adaptive Noise Cancelling
How much ambient noise does the built-in adaptive noise cancelling feature block out? Before we cover that in detail, Bluetooth headphones are somewhat notorious for producing a slight hiss when the ANC is activated. 
These cans produce an extremely quiet, almost impossible to hear ANC hiss. It's extremely minimal, especially compared to more expensive noise-cancelling 'phones. The actual noise cancelling feature immediately blocks out about 70-75% of the noise around you when music is not playing.

When ANC Is Activated
When music is playing and the ANC is activated, it does a pretty good job at keeping close to 90% of the sound around you from leaking in. The controls used to activate the noise cancelling feature may take some getting used to at first. After you play around with the ANC function, you'll get the hang of it.
Whether or not you're completely satisfied with the level of noise-cancelling will depend on where you plan on using these. For everyday use (walking around, busy stores, at home) the ANC is able to block almost all outside noise around you. If you plan on using these on a plane or other activity with a similar amount of outside noise – you can expect outside noise to be diminished by about 75%-80%. 
Next, let's take a closer look at how good (or bad) their sonic performance really is!
---
Sonic Performance – What To Expect
One of the most common criticisms about the Studio Wireless is that they don't produce 'audiophile-level' sound quality. While this may be true, that doesn't mean that they don't stand out in other areas. In a way, these cans do tend to perform better for listening to certain genres. Let's take a closer look at their sonic performance in detail.
Bass Response – Too Much Bass?
You've probably heard that Beats are only good at producing a powerful low-end bass response. They do lean towards a stronger low-end performance, but not so much that the mids and highs are completely neglected. 
When listening to overly bass-heavy music, you can definitely feel a slight rumble around your ears. If you pair them with a headphone amp like the FiiO A3, the low end does tend to become slightly distorted. This minor bass distortion can be avoided by listening to lower volumes. 
The lows can become somewhat sloppy and loose. They don't have the most punchy or refined bass response, but still, get the job done. If the bass was slightly more condensed, these would be a bass head's paradise. 
Vocal Clarity
If the bass response is constantly rumbling, will you be able to clearly hear the vocals on a track? One of the first things you'll notice when you're listening to most tracks is the slightly subdued vocal presence.
This does make it a little bit harder to pick out the detailed vocal nuance on multi-layered tracks. Since there is minimal detail separation, it would be nice if the vocals on most tracks were slightly more elevated.
Highs
What can you expect in the upper range? At times, the highs can be slightly overwhelming. They don't reach too far and never venture into becoming tinny.
If you're listening to chaotic music for hours on end, the somewhat harsh treble can cause minor ear fatigue. For the most part, the highs are fairly represented with a slight tendency to stick out about as evenly as the bass does on the low end. You'll notice this effect, especially when listening to hard rock, metal, or sludgy alternative music like Nirvana.
If you expect to hear extremely well-balanced and authentic playback, you will likely be disappointed. The detail separation is very minimal which allows for a less-nuanced listening experience.
This also means that they aren't the best pair of headphones to get an accurate reference point in the studio. Although they don't offer the same level of clarity and dynamic response that the Beyerdynamic DT1350 do – they excel at creating a very fun and lively listening experience.
They also perform surprisingly well across a wide range of genres. Due to their v-shaped sound signature, they clearly favor genres like EDM, hip-hop, R&B, and other music with a strong low-end presence. 
---
Who Are The Studio Wireless Perfect For?
These headphones are perfect for you if you're not only concerned with perfect detail separation and a well-balanced sound profile. Once again, if you're looking for 'audiophile-level' quality, these probably won't work for you. If you're looking for a super comfortable pair of cans to use at home or on-the-go, these would be a great choice.
They're among some of the most fun 'phones to use – due to their wireless capabilities and v-shaped sound signature. They have a decent battery life that won't leave you stranded without music and their wireless range is pretty impressive.
The sleek and compact folding design plus above-average comfort isn't always easy to find at this price point. Take a look at the review table below to see what criteria we used to calculate our final rating out of 10.
What do you think? Did our Beats Studio Wireless Review change your opinion in any way? Do they seem like a quality pair of headphones that have a lot to offer? If you'd like to see more information before you decide, click the link below to see more customer reviews and pricing info.
Click here to see the best price on Amazon.
Thanks for taking the time to take a look at our review for an extremely controversial pair of headphones!
Feel free to leave a comment below and let us know what you think! If you have any questions about anything we've covered here, ask below! We always do our best to respond as quickly as we can and look forward to hearing from you!
Sonic Elevation: Ride The Waves.