SoundMagic E10 Noise Isolating In-Ear Headphones
Build Quality & Durability
8.5/10
Pros
Dynamic Bass Response
ZERO Audible Distortion At Higher Volumes
Overall Depth & Imaging
Compact Zip Carrying Case For Storage
Slightly Braided Headphone Cable For Less Tangles
Cons
No Built-in Microphone/In-Line Controls
Memory Foam Ear Tips Not Included
What are the best earbuds you've tried under $40? Does the bass response become muddy the second you turn the volume up past 12 o'clock? Can you even hear a clear difference between the bass, vocals, and treble?
If you've ever had that experience, you know how important distinct detail separation and vocal clarity is. We don't want the act of listening to our favorite songs to become a chore. It should be a laid-back and enjoyable experience. You shouldn't have to strain your ears just to hear that riff or vocal melody you love.
Is it possible that these earbuds have much more to offer than you might be used to? Can they deliver high quality audio playback that won't make you regret your decision? Keep reading our SoundMagic E10 Review to see how they perform!
SoundMagic E10 Review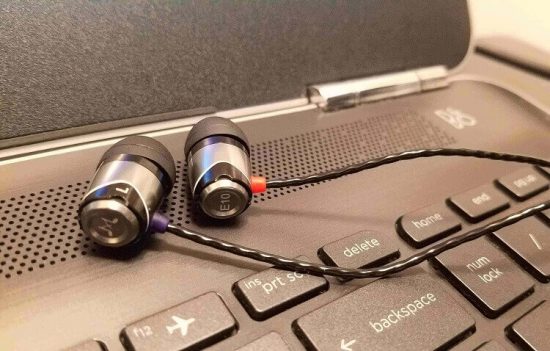 Features & Technical Specs:
In-ear, noise-isolating earbud design

Constructed with all metal

The headphone cable is slightly braided to minimize tangling issues

Includes 6 pairs of earbud tips + mini hardshell zip carrying case + headphone shirt clip

Driver Type

: 10 mm neodymium dynamic

Frequency Response

: 15 Hz – 22 kHz

Impedance

: 16 Ohms

Sensitivity

: 1002 dB at 1 kHz/mW

Dimensions

: 0.8 x 0.4 x 47.2 inches


Weight

: 0.32 ounces
Before you move on, take a quick look at the links below that you can use to navigate our review. Each section will provide an in-depth analysis of each individual performance aspect. 
Here are the 5 most important performance features you'll want to consider before making your decision:
Now that you've taken a quick look at the technical specs, let's start by examining two of the most important features – build quality and durability.
---
Build Quality & Durability
One of the first things you'll notice when you pull these 'buds out of the packaging is the all-metal earbud construction. 
It's the exact opposite of an extremely heavy metal (like you'd find on a hammer or wrench). The metal used to construct the outer components is extremely lightweight and feels similar to aluminium. 
On the back of the right earbud casing, you will see "E10" etched in white lettering. On the back of the left casing, SoundMagic's logo is etched in white.
Each earbud also has a left and right (also in white) marking on the inner portion of the build. To further point out which earbud goes in which ear, they also added a small silicone ring where the cable connects to the earbuds. On the right side, there is a red ring and the left side has a blue ring.
This might seem like a minor feature to point out, but in reality, these markings can be pretty helpful for making sure you get the right earbud into the correct ear. Let's move on to the headphone cable. 
Slightly Braided Headphone Cable
The headphone cable is 1.2 meters (close to 4 ft.) long which should provide adequate length for most uses. It's wrapped in a glossy black material that feels slightly more durable than the standard 'phone cable wrapping.
The cable wrapping material adds to the effect that you're holding a quality pair of earbuds. The cable is also slightly braided which helps keep the earbuds from getting tangled up when they're in your pocket or the included zip carrying case.
The slightly braided cable is extremely helpful if you're someone who's used to tossing your earbuds in their case or your pocket for storage. No one enjoys pulling out a tangled mess and spending the next 10 minutes trying to untangle them. Instead, the next time you throw them in your pocket and take them out – you'll find that the braided texture dramatically decreases major tangle issues.
At the y-joint of the cable, there is a small metal casing with the serial number on one side and 'SoundMagic' etched on the opposite side. At the end of the cable, just before the gold-plated 3.5 mm connector, there is another metal casing that says 'Made In China'.
Built-in Microphone & In-Line Button Controls
The fact there this isn't a built-in microphone or any in-line button controls may be a slight drawback for some. On the other hand, if you just need a pair of earbuds for listening to music on-the-go, it probably won't be much of an issue at all.
Some users have reported that the metal casing just above the 3.5 mm connector tends to pull apart after a few months of use. This usually occurs after repeated tugging on the cable when you're detaching the headphones from your phone or DAP.
In order to avoid running into that issue when you unplug the cable, hold the metal casing at the base then pull rather than tugging on the cable itself. Although most users don't run into any issues with the cable, removing it using the metal housing at the base will help preserve their lifespan.
Overall, they have a nice and compact build design that features subtle branding and sturdy materials. They look and feel like a quality pair of earbuds that were built to last.
---
Comfort & Finding The Perfect Fit
You will receive 6 pairs of silicone ear tips that will comfortably fit most ears. Five of them are the standard rounded style and the sixth feature a double-flange conical design. Some prefer the conical design since they tend to provide more noise isolation.
These earbuds sit fairly comfortably inside your ears and are light-enough to stay securely in place (even when you're moving around). In most cases, they fit securely enough to be used while taking a jog or performing other similar physical activities. That being said, there are a few minor design flaws that you might want to consider.
Ergonomic Design & Long-Lasting Comfort
They don't have the most ergonomic design, so you might want to replace the silicone tips with complying ear tips to improve their fit. While they don't randomly fall out of your ears, you might find yourself occasionally reaching up to readjust them.
Despite the occasional need for readjustment, they do have long-lasting comfort that's leagues beyond most sub-$100 earbuds. Keep in mind, this very minor design flaw has more to do with the silicone ear tips rather than the earbuds themselves.
You're probably wondering if they have long-lasting comfort. After listening for over 8 hours (taking 5-minute breaks every hour and a half or so) you will experience almost no inner ear fatigue at all. (There aren't many similarly-priced earbuds that can be worn for that long without causing noticeable discomfort.)
Overall, in terms of comfort, their lightweight fit pushes them far ahead of most of the competition – easily earning themselves a spot near the top of the list.
---
How Much Noise Isolation Do They Provide?
Since these are in-ear headphones, they should be able to block out a decent amount of ambient noise. Do they follow through on that promise? Let's take a closer look.
When you're listening to music, they isolate virtually all the noise around you. If you use them to watch a movie or stream Netflix from your smartphone – you can expect the same level of noise isolation.
When they're in your ears and nothing's playing – your surroundings (like a fan spinning or people talking around you) will be muffled by about 60 – 70%. If your main concern is noise isolation, we recommend using comply ear tips.
Then again, in this area, it's not really fair to expect them to be able to compete with some of the best in-ear monitors. Here's the bottom line – for most uses and everyday listening, the level of noise isolation will be more than adequate.
---
Sonic Performance – Where Do They Excel?
Each earbud houses a 10 mm neodymium driver. The benefit of using neodymium drivers is that they're more compact and lightweight – without sacrificing sound quality for a smaller build. Now, let's take a closer look at how they actually perform.
Dynamic Depth & Clarity
These 'buds feature a fairly even-keeled sound profile that very slightly favors the mid-to-low range frequencies.
Although that's true, each frequency is fairly represented, without creating the effect that one range sticks out above the others. The bass might seem stronger than usual because most earbuds in this price range fail to produce a quality low-end response that's accurately represented.
Across a wide range of genres, the bass response is fairly dynamic. When listening to hip-hop, EDM, or other similar genres, the bass manages to remain punchy without becoming muddy or distorted.
Is The Bass Over-Represented?
The low-end performance is somewhat reminiscent of over-ear headphones like the Sony WH1000XM2 that also produce an interesting bass response. (The main difference being that they're in-ear headphones, which will create a slightly different effect.) 
If you do find that the bass response is more powerful than you'd like – we recommend experimenting with the included ear tips. In most cases, you'll find that the dynamic low-end presence isn't overwhelming or over-represented. 
Mid Range & Treble Performance
In the mid-range, they offer a well-rounded vocal clarity that has a warm and bright tonal quality. Vocals are slightly laid-back and blend nicely with the rest of most tracks. 
The highs are surprisingly crisp and roll off smoothly before reaching the eardrum-piercing 'unlistenable level' of sharpness. This makes them great for listening to a wide range of genres without having to make too many EQ or volume adjustments.
Detail Imaging & Distortion
The level of detail these earbuds provide is almost impossible to find at this price point. Are they the most-detailed pair of headphones you'll ever listen to? Maybe not, but their warm response provides above-average depth and overall imaging.
Classical music sounds lively with a good amount of detail separation. There is absolutely ZERO audible distortion – even at higher volumes on tracks that normally trigger bloating or other similar inaccuracies. If you see yourself potentially using these for watching movies or listening to podcasts, you'll want to read the next section for more details. 
Listening To Podcasts and Watching Movies
Even if you primarily plan on using these 'buds for listening to music, it will be helpful to know whether or not they work just as well for watching movies.
You can expect to experience the same level of sonic performance (we covered in detail above) while watching a movie. The soundtrack, dialogue, and other sound effects are all fully-present. During scenes where the soundtrack is playing in the background over dialogue, neither one gets in the way of the other.
Tonal Quality & Pairing With An Amp
They also perform well for listening to podcasts. Most podcasts don't have very much music at all, other than maybe during the intro/outro. Since these 'buds produce a warm, well-rounded tonal quality – most podcasts sound great.
Although you can use these earbuds by themselves (plugged directly into your smartphone or DAP), they also pair very nicely with a portable headphone amp. They are extremely easy to drive and when paired with an amp, you won't have to turn the volume knob all the way up.
Using a quality headphone amp or DAC/amp (like the Audioquest Dragonfly Red) really emphasizes the audio quality elements mentioned above to the forefront.
Once again, it's hard to get too nitpicky when it comes to their sonic performance since they really do deliver a stellar level of audio quality at such an affordable price.  
---
Who Are These Earbuds Perfect For?
These earbuds have so much to offer that it's hard not to recommend them to anyone looking for a very reasonably-priced pair of lightweight in-ear headphones.
If you're someone who's gotten used to buying overpriced earbuds that under-perform and constantly need to be replaced – these will help put an end to that cycle. For an affordable pair of earbuds that will last longer than 1 month, there isn't much competition to be seen.
As long as you can live without a built-in microphone and in-line button controls, these will meet (and hopefully surpass) your expectations. In terms of sound quality – the dynamic bass response, vocal clarity, and beautifully rolled off treble offers unprecedented depth at this price point.
What do you think? Did our SoundMagic E10 Review answer most of your questions? Are you looking forward to trying them out for yourself?
Take a look at the review table below to see a pros/cons checklist, the most important features to consider, and our final overall rating (out of 10). If you'd like to see them on Amazon, use the link here or click the button at the bottom of the review table.
If there's anything you think we forgot to mention, let us know by leaving a comment below! If you have any questions about any of the features, feel free to ask below. We always do our best to respond as quickly as we can!
Thanks for stopping by to read our review, we hope to see you here again!
Sonic Elevation: Ride The Waves.