Beats Studio Wireless Over-Ear Headphone Review- A Peek Inside
Welcome back to another Sonic Elevation review! This time we'll be taking an in-depth look at a pair of wireless Beats headphones. You may have heard good things and you might've heard some negative things about Beats. Some of the naysayers have little to no experience listening with them. Others might have limited experience and weren't satisfied. 
Either way, the Beats Studio Wireless Over-Ear Headphone is a solid piece of audio gear that will get you started on the journey of wireless music listening. Let's take a peek inside together and see what they have to offer. I hope you find this review helpful!
---
Beats Studio Wireless Over-Ear Headphone
I did a comparison a while ago pitting theses against a V-Moda model. I mentioned in the Beats vs. V-moda comparison that the wireless feature on the Studio Wireless wasn't that good. Well, I've been experimenting with it a little bit more and I have to tell you that I don't think I was fair with the Studio Wireless.
Basic Specifications:
Listen/pair up to 30 ft. away 
Adaptive Noise-Cancelling Technology built-in

Up to 12 hours of listening time on a single charge

LED battery life indicator

Built-in microphone (for calls/Skype)

Option to listen with wireless or wired connection
Compact folding design (hard shell carrying case included)

Iconic Beats Sound profile

Frequency Response: 20-20,000 Hz

Weight: 4.16 oz.
---
Let's Dive Right In – Wireless
One of the main things I knocked these cans for was their wireless capabilities. After playing around with them and doing some self-experimentation, this is the conclusion I've been able to reach. 
Ear Cup Button Controls
We'll start off with the button functions featured on either side of both ear cups. 
On the right side you have a battery power status light bar as well as the power button and Bluetooth pairing function (both use the same button). When you press and hold the power button without any cables plugged in, you can power up and pair with a device. I'll cover that in more detail further below. 
Volume Adjustment
They have a volume adjustment button on the left ear cup as well as a play/pause button (located on the outside of the ear cup also doubling as the 'b' logo.) While connected to my Samsung Galaxy, streaming music off of Tidal I discovered that the volume actually goes a lot louder than I originally thought.
For clarity's purpose I decided to mess around with the volume control on both devices and found that if you turn the volume about mid way to ¾ of the way on your phone/iPod THEN adjust the volume on the headphones accordingly it works WAY BETTER. I also got into the actual sound performance a bit more in detail further below.
---
Wireless Listening Time
The battery has lasted more than 10 hours of listening so far on ONE charge. I think I was a little bit TOO HARSH in my comparison article. Beats' official site states that it can last UP TO 12 hours.
That might be a bit generous but it also depends on how loud you like to listen, how much you're using the volume control buttons, and whether or not you have to reconnect Bluetooth once or twice.
It might've been a problem with my laptop settings but I DID have to reconnect several times while streaming an album off Tidal. This could've also been a bug with the streaming service, I'm not exactly sure. The bottom line is as long as you have these charged up before you step out of the house to go to work or on a trip, they'll keep you listening for longer. 
---
Charging Time
These come equipped with a USB charging port on the right ear cup. After a quick charge via the Beats 10W Power Adapter or by simply plugging the phones into your laptop's USB port, you're ready to listen!
The average charging time for these cans is usually around 2 hours for a full charge after completely draining the battery.
I'm pretty impressed by the variety of button controls that you can operate without having to touch your mp3 player or smartphone while listening (although this is becoming the industry standard.)
---
Battery Status Function – Press of a Button
If you start to worry or wonder about how much battery is left, you can push the power on button once and the lights will show you how much juice is left until your next charge. As you can see in the picture below, they are charged up to about 4 out of 5 (indicated by the blue lights.) At this charge you would have about 8 or 9 hours left of cable-free listening. 
---
Accessories Included:
Micro USB cable for a quick charge time

Headphone Cable for Wired Listening

RemoteTalk Control Cable

Beats 10W Power Adapter

Matte zipper carrying case

---
Sound Performance – Is it THAT Good?
One of the common complaints is that these don't perform as well in the area of sound performance. I think Beats specifically tailored the sound signature to cater to certain genres. They don't have the same versatility that, let's say the Beyerdynamic DT1350s do.
Across a Range of Genres
The quality isn't bad by any means. If you purchase a pair and they don't sound as good when you play The Killers versus when you listen to Getter or Kendrick Lamar you'll see what I mean.
This could be in part due to different ears picking up on certain sounds better than others but it also could be because one of hip-hop's biggest producers (Dr. Dre) helped curate the earlier models. I'm sure he listens to more than one genre and can even be seen in The Defiant Ones jamming out to Nirvana.
It's safe to bet that these headphones are stronger in some areas than others because of the audience they may have been intended for originally. They provide an above average performance without giving you too much extra in that regard. The strong point here is the bass-centric undertone across most genres you'll listen to. 
The highs stick out more than you might prefer if you're a metalhead and can't stay away from The Black Dahlia Murder's Nightbringers, but if you stick to mostly hip-hop/electronic or indie/alternative you'll be just fine with the balance. 
---
Comfort – How Long Can They Rest on Your Head?
One thing that bothers me about these is the head band that sits on top of your head tends to cause some discomfort. This could be due to the shape of my head or maybe it's something that Beats should reconsider on their next models.
It seems to have been addressed on the Solo 3 Wireless but since these ones are an older model you should know that this could be a minor issue you might run into.
Does it stop me from using them? Not at all. Ultimate comfort is definitely preferable but it's not always available or feasible.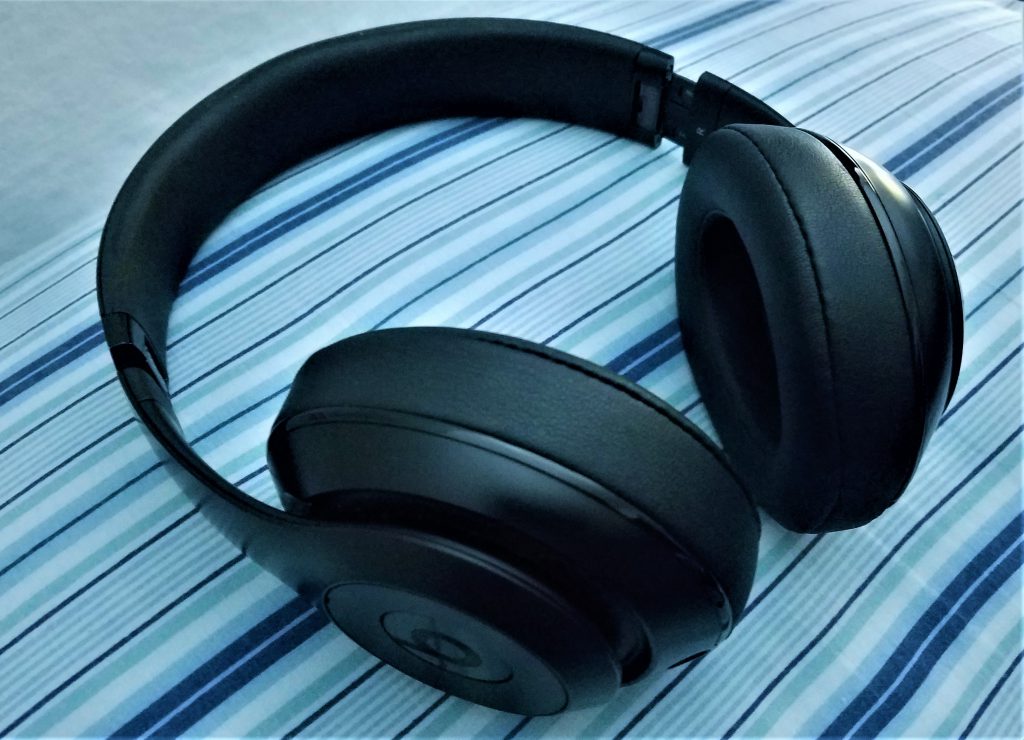 The ear cups are pretty comfy, my main complaint is the headband resting on my dome. Maybe some extra padding would help. Also this could be an ergonomic choice on their part since the ear cups fold inwards to fit into their hard shell case.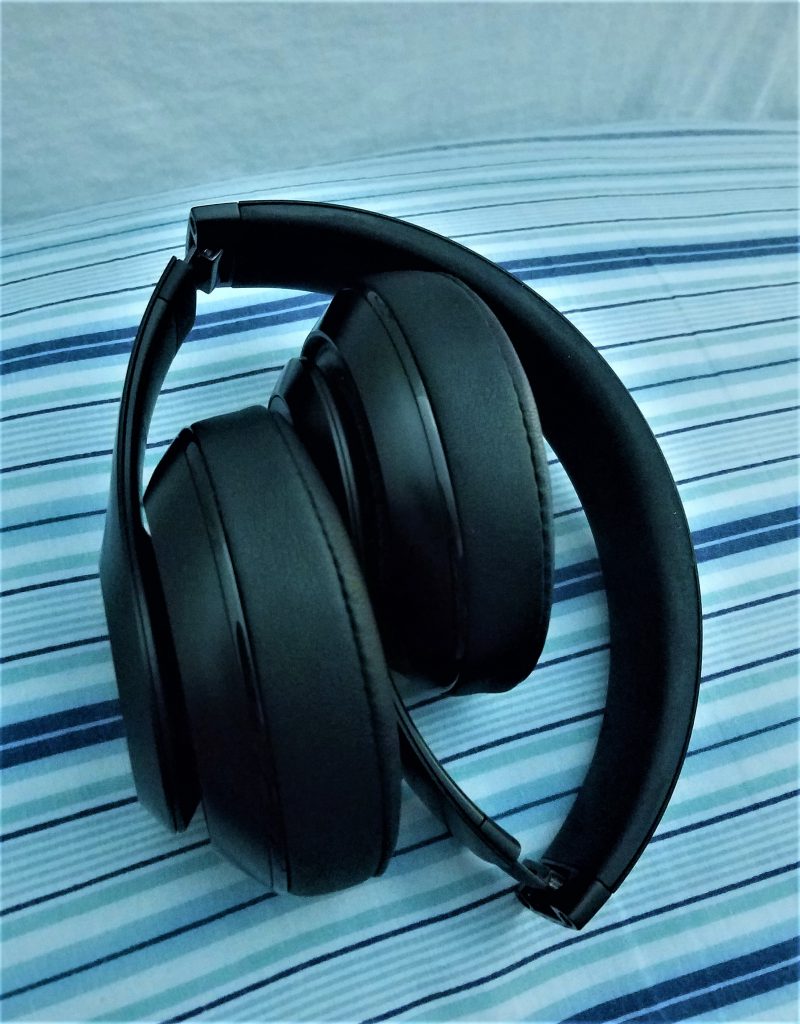 V-Modas outperform them comfort-wise hands down. Keep in mind that the LP2s DON'T fold so they would be able to add more padding on the headband for extra comfortable listening. The ear cups fit nicely around your ears and don't get uncomfortable the same way that other headphones might. 
They don't have the best ventilation but as far as the padding and material covering the padding, they don't give us much to complain about. 
---
For Working Out – How Will They Hold Up?
Although you will occasionally see people at the gym working out with Beats, the Studio Wireless wouldn't be the BEST choice. They will hold up and do stay pretty firmly in place but the ventilation isn't the best.
I find that these need to be treated more like a newborn than a piece of gym equipment like a 25 lb dumbbell or the treadmill you put your miles on. Since the ear cups are more closed-off and have leather covered padding, your sweat probably won't RUIN your phones but it's also not the best for wear and tear.
I'd suggest finding a different pair to wear AT the gym and leave these for listening elsewhere. Unless, of course, you can't bear to be away from your precious gear for long enough to finish up those laps at the track.
These would be nice for the simple fact that they don't need a wired connection to play music but there are a ton of other options for that.
---
Closing the Curtains… For Now
We've covered a lot so let's go over the Beats Studio Wireless Headphone review one more time. 
The sound quality is better than average, they're pretty comfy (other than the headband), their wireless features are top notch, you get a lot of EXTRA accessories, you'll be covered for UP TO 12 HOURS of wireless listening time off ONE CHARGE, and they fold up for you to take with you wherever you desire. 
Give them a try and come to your OWN conclusion! Click here for customer ratings and pricing info. 
As always, thanks for taking the time out of your day to stop by and tune in! Leave any comments or futher questions you have below and I will be sure to respond! 
Sonic Elevation: Ride The Waves. 
Beats Studio Wireless Over-Ear Headphone